A pleasing backyard designed beautifully will accomplish something beyond adding a refreshing look to your space. Nowadays when it is hard to get kids unplugged from TV, laptop or any other gadget, having a dreamy backyard where they can enjoy playing in the pool or you could barbecue a tempting dinner for your family will become an imperative component of bonding-time and a designated place to wipe out stress.
Paying a little attention with creativity to your backyard will help in fostering a harmonious relationship and a sense of satisfaction while spending a quality time with your family.
With all this in mind, let's look into various ways to add a creative edge to your patio and backyard area.
1. Water Feature
Image Source
An inspirational sound and virtue of flowing water will bring a great deal of positivity and happiness to your soul. Employing natural stones and rocks are enabling to give this backyard a visual close to nature. A closer view of the waterfall will bring a calming influence with a sliding for fun.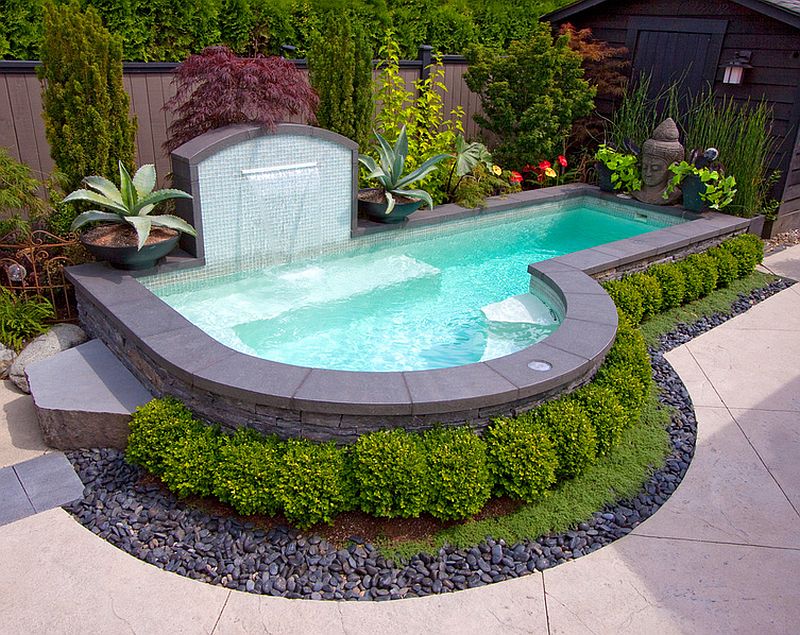 To enhance the ambience of a stylish modern home and giving it a spectacular visual space will not be a constraint if you implement your creative side.
2. Lighting & Fire
These simple yet creatively used patio lights will create dazzling creative nightscapes & will extend your time outdoors.
A very glamorous fire pit Gazebo under a beautiful LED string lights on wooden pergola has such a charming decor to be envied by your guests.
3. Add More Greenery
The splendour of nature brings upliftment in mood and will increase your optimism in the result.
With careful planning and selection of plants, a small backyard space can also look extraordinarily fascinating and satisfying to those who want to stay close to greenery.
These vertical garden planters with succulents are an inspiring solution for backyards with very limited space.
Offering different approaches to inculcate greenery in exteriors of commercial complexes like corporate offices and hotels, the interior designers in Delhi, Mumbai and such other cities have done an incredulous job.
4. Creative Seating Ideas
Some posh and gigantic private houses designed by interior designers in South Delhi with open patio, the curved seating with bright coloured pillows, cushions and the cool contrasting surrounding is completely ideal for summers season.
A canopy swing bed for two is a wonderfully cool idea to take a power nap.
5. Flooring
A raised deck and tile pattern garden flooring is contributing the natural beauty of this landscape. These days getting professional services under one roof and within a specified time limit when people are running short of time is feasible only by hiring some interior designer firms. No doubt, these ideas can tempt you to change the way your backyard looks.
Suggested Reading - Top 5 Kitchen Design Ideas for Homes with Space Constraints